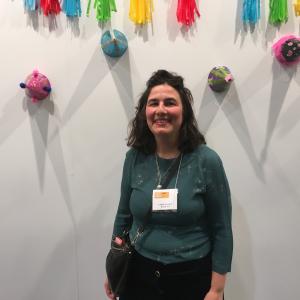 Linda DeLuca
Artist member since 2018
Pro
Toronto , Ontario
Linda DeLuca was born in Welland, Ontario and currently lives in Toronto. She is a graduate from the School of Crafts and Design program at Sheridan College, Oakville, A graduate from Concordia University, Montreal, with a major in Fibres. Linda received the Mayor's Award for Business and Applied Arts in Oakville, Ontario from her time at Sheridan College. She was a resident at the harbourfront Centre in the Textiles Department. Over the years, Linda has participated in many group and solo shows: locally and Internationally, Some recent exposure includes art fairs, and Artbomb online. Her art philosophy is to always be exploring and learning new art techniques and be inspired by other artists in her community and beyond.
---
Why is art important to you?
Art is important to me on so many levels, we as human creatures need creativity around us to stimulate our brains and it adds beauty and adds a smile to someone's face, or stirs up any kind of emotion. That's what art is about, engaging curious minds to think and share ideas.
What artists do you admire right now?
There are soo many artists that I admire , too hard to pinpoint, but, I have admired Joesph Beuys work, and Kiki Smith. I recently saw an exhibit at the National Gallery of Ottawa with there work highlighted.
Who do you consider a genius?
David Byrne from Talking Heads, he has done sooo much, from music, to photography, to doing an installation in New York City, he's always reinventing himself!
Favourite medium
I've been exploring with all kinds of mediums. lately, it's been linocuts/collage using Japanese paper with resin to complete the works.
What kind of artwork do you have in your home?
I have a variety of artwork by artist's friends - ranging from sculptures, paintings to illustrations.
What places do you hang out in Toronto?
Lately, I have been loving the Merchants of Green Coffee. I have found my favourite spot to sit, it's very cozy!
Upcoming Exhibitions
2019-03-31
2019-04-21
2019-07-12
2019-07-14
What do you mean, "try"?
Try-before-you-buy with a 3 month rental. 100% of your rental payments go towards the purchase (interest free). Message the artist directly, and start the conversation.
---
Art made (truly) affordable
We make it easy for you to try art with smart payment plans and try-before-you-buy models.
See How It Works
---
You're covered.
Artwork protection is included on all art rentals up to $10K. Our Customer Care team is always here to help.
Contact Us
---
Unlock Trade Access
For industries including interior design, film/TV production, & real estate staging: rent original pieces that fit with your project vision, budget and timeline.
Apply for Trade Access
---
1% from every transaction goes towards a Canadian arts nonprofit.