Supporting Canadian Art Never Looked So Good
The Perfect Tote for the Art Enthusiast
$30 CAD + applicable taxes
Thoughtfully designed and printed in Toronto, Partial's Canvas Tote is the perfect, go-to carry all. The heavyweight canvas tote is portable and practical with a velcro closure to keep your items secure. The flat bottom allows for more structure and space. With two reinforced handles to make toting your essentials easier, the bag holds its shape and can be folded flat.
Supporting Canadian art never looked so good.
Heavyweight canvas tote with velcro closure
Bottom gusset
16"W x 14"H x 3"D
Heavy-duty woven carrying handles
Screen printed design on one side
Free shipping across Canada
Limited Edition of 100
NEW Limited Edition Release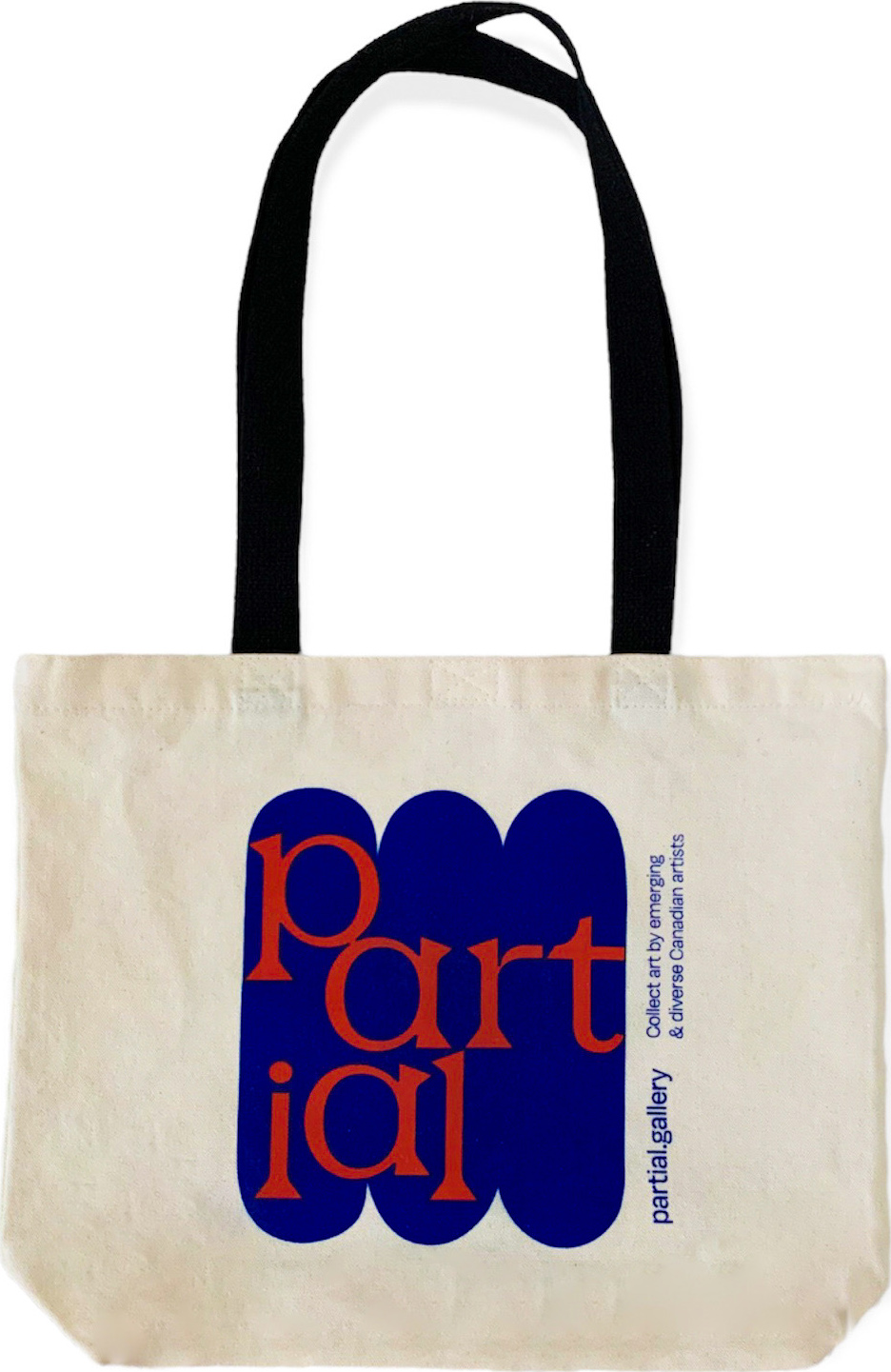 Buy Now
$30 CAD + applicable taxes
Give the gift of art and support Canadian arts.
Do you want a gift that is truly unique, personalized and sure to delight your special someone or that impossible-to-buy-for friend or family member? Well, Partial has you covered.
Name
City
Preferred artwork sizes (approx. in inches)
No. 1
Affordable originals
Prices vary
Check out Partial's selection of original Canadian art from emerging artists across Canada. We have curated a selection of artwork, with price points ranging from $35 to $1,000. It's a great way to show your support for Canada's homegrown talent.
Shop Now
No. 2
Gift cards
Any denomination
Looking for something unique but not sure what that is? Partial gift cards are personal and memorable. Your gift card is customized with a special message from you. It's a great way to support Canadian artists by giving one-of-a-kind artwork and is convenient, simple, and instant. And, so much better than a Starbucks giftcard (trust us on that!).
Buy Now
No. 3
Art Sommelier experience
$149 CAD + applicable taxes
Who doesn't want their own person art sommelier (the answer is no one!)? Give the gift of Partial's Art Sommelier advisory service. Your recipient will be connected with one of our art sommeliers at their convenience, who will connect and curate artwork tailored to the taste of your special someone.
Buy Now
Art on Paper #01 by Kyung Soon Park
,
Medusa's Raft by Laura Heaney
Please allow one (1) business day for your custom gift certificates to be designed and delivered. *NOTE: Orders for arrival before Dec. 25 are now closed. Shipping requires 3-5 business days and will resume on Dec. 27, 2022.