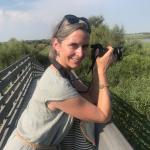 Jacquelyn Sloane Siklos
Jacquelyn is a Toronto based artist, working in photography and painting. She graduated from a joint art and art history program at University of Toronto and Sheridan college, and continued her art st...
Synnöve Seidman
I make art to try and understand my place in the world. I am thinking about how I experience reality and the human experience. I have an abiding interest in the restorative power of beauty and how it...