Susan McLean Woodburn
"I am always open to the Spirit of grace and harmony. It is my desire to share these moments that inspires me to paint." Susan, a Canadian artist, was raised and spent considerable time in Toronto, ...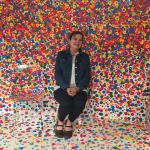 Larissa Mattwich
My inspiration flows from moments in everyday life. In practice, this means my paintings are based on my own photographs, sometimes expressed with a considerably abstract brush. These snapshots might...