Amanda Amour-Lynx
Amanda Amour-Lynx is a Mi'kmaq First Nations interdisciplinary artist, curator, social worker and educator living in Toronto, Ontario, on Dish with One Spoon treaty territory. She was born and grew ...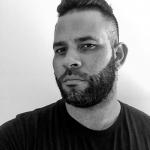 Davinson Nunez Sanchez
CURRICULUM VITAE Davinson Nuñez Sanchez, Caibarién, 18 de marzo de 1989. Dirección particular: Calle 18 No. 1925 e/19 y 21. Caibarién, Villa Clara. CUBA Correo electrónico: davinson@n...