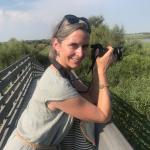 Jacquelyn Sloane Siklos
Jacquelyn is a Toronto based artist, working in photography and painting. She graduated from a joint art and art history program at University of Toronto and Sheridan college, and continued her art st...
Susan Robertson-Baranick
I am resident of Ottawa Ontario and I am a"late" emerging artist, mother of 3 and about to retire from the career that has occupied my life for 30 years. Up until now I have been mostly self taught ...