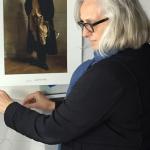 Zeljka Alosinac
Zeljka Alosinac is an artist whose preferred medium is drawing. For the past thirty years she has worked in the film industry as a Set Decorator, developing her creativity, attention to detail and cla...
Pandora Owl
Pandora Owl was born and raised outside of Toronto, Ontario. Her art focuses on mental health & illness in order to help comfort those who suffer from it as well as exposing it to those who don't. S...
Matthew Li
Matthew Li is a 19-year-old student currently enrolled at the Cooper Union in New York City.