Adam Macciocchi- Lancia
Adam M Lancia is an abstract pop artist from Toronto, Canada. Accepted to the Art Gallery of Ontario's "Young Artists Incubator" at age seven, to then graduating with a BA in Fine Arts at OCAD U, Adam...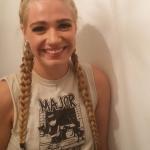 Clare Allin
Clare Allin is inspired by contemporary issues such as environmental concern and consumerism. Clare explores these themes though multi-media drawings done on paper. Clare is inspired by the city she ...