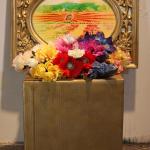 Tavi Weisz
I have completed my formal studies in Cluj, Romania and Budapest, Hungary and following 2002 I have established my studio in Ottawa, Canada.
Susan McLean Woodburn
"I am always open to the Spirit of grace and harmony. It is my desire to share these moments that inspires me to paint." Susan, a Canadian artist, was raised and spent considerable time in Toronto, ...
Diana Rosa
As a visual artist, Diana Rosa takes inspirations from an alternative upbringing where she closely connected with the natural landscape around her. Born and raised in Cuba shaped her perspective on na...