Meghan Monaghan
Meghan Monaghan lives and works in Toronto. Her work is influenced by the examination and inspection of natural forms; from plant life to rocks and minerals. Meghan creates mixed media paintings on w...
Matthew Li
Matthew Li is a 19-year-old student currently enrolled at the Cooper Union in New York City.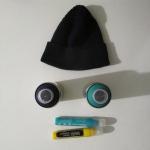 Serge Khrumalo
Serge is a Toronto-based artist who draws all the time, on everything. Experimenting with materials is an essential part of his creative process. He is inspired by fast-paced life in Toronto as well a...