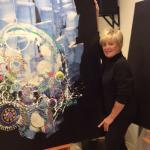 Donna Wise
Donna Wise is a Toronto based artist ,who has shown across Canada & the US.Her acrylic paintings are boldly coloured compositions of patterns,patterns & textures . She has works in many corporate coll...
Susan McLean Woodburn
"I am always open to the Spirit of grace and harmony. It is my desire to share these moments that inspires me to paint." Susan, a Canadian artist, was raised and spent considerable time in Toronto, ...